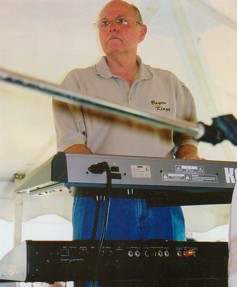 Lanny Boudreaux was born on November 13, 1941 in Golden Meadow, Louisiana to John L. and Phelonise Rebstock Boudreaux. Lanny has one sister, Marlene Horbach.
He attended Golden Meadow High School where he played snare drums in the marching band. Lanny also was first chair snare drummer in the LSU Tiger Marching Band and the LSU ROTC Military Band and percussionist in the LSU Concert Band.
In the winter of 1956, Lanny began his professional career playing piano with, "The Mac Cheramie Band," at the Country Inn in Cut Off, Louisiana. The band members included Carl Dufrene on guitar and Mike Cuneo on trumpet and sax. In the summer of 1957, Lanny played piano with, "The Rhythm Teens" with Carl Dufrene on guitar, Tony Cheramie on drums, Mike Cuneo on sax and trumpet, Roger Cheramie on vocals, and Bob Curole on guitar and bass and later added a new drummer, Les Domaing. In 1958, "The Del Phi's" were formed. Again Lanny on piano, Mike Cuneo on sax and trumpet, Hayward 'Woody' Goodroe on baritone sax, Mike Pitre on alto and tenor sax, Carl Dufrene on guitar, Bob Curole on bass, and Les Domang on vocals and drums. They played at the Country Inn, Coleman's Dance Hall, The Galliano Inn (owned by Dudley Bernard), and the teen dances at the KC Hall in Cut Off. It was at one of these teen dances where Lanny met his wife. She was 13 and he was 16, and five years later in 1963, they married and remain married to this day. In late 1958 & 1959, Mike Pitre was replaced by Lloyd Toups on tenor sax and Vhores Trosclair's trumpet and Joe Barry's guitar and vocals were added to the band. This was the band that recorded, "Heartbroken Love" and "Greatest Moment of My Life" at Floyd Soileau's Record Shop in Ville Platte, Louisiana, and released on the JIN label.
In 1960, Lanny was a percussionist in the Baton Rouge Civic Symphony under the direction of Dr. Peter Fuchs. It was during that time, that Lanny met a guy named Bill Conti, who later became famous by writing and composing the theme songs for all the Rocky movies with Sylvester Stalone. It was also during that time period that a band called, "The Vikings" were formed; Joe Barry on vocals and guitar, Cliff Fonseca on guitar, Sherril Rivet on drums, Don Stevens on tenor sax, Lloyd Toups on tenor sax, Pat Curole on trumpet, Lanny Boudreaux on piano and Leroy Martin on bass. "The Vikings" home base dance hall was Sal's Welcome Inn in Raceland. Later on, "The Vikings" recorded at Cosmo's in New Orleans and released, "I'm A Fool To Care." With the popularity of Joe's song, "The Vikings" began playing larger clubs like: The Southern Club in Opelousas, Lee High School in Baton Rouge, backing up such greats as Jerry Lee Lewis and Roland Stone, The Joy Lounge, Dew Drop Inn, The Scorpio, and The Belvedere in Houma.
While Joe Barry was touring around the country, Lanny stayed in college and in 1963 played with a band called, "Mike & The Playboys" with Mike Cuneo, D.J. Collins, and Ebdon Barrios. It was also the year Lanny started a business with his father and later on opened up his accounting practice.
From 1964 thru 1966, while working at his own business, Lanny did spot-jobs with other musicians. It was during this time that Lanny played on Vin Bruce's recordings of "Jolle' Blonde" and "The Ballad of Jean Callais."
Lanny served in the military from 1966 to 1968 in the Viet Nam war. Upon his return home, he did a few spot- jobs with, "Mike & The Playboys." In 1971 the band was playing a banquet at Tideland Country Club in Galliano, with Ike Clanton on bass, Mike Cuneo on horns, D.J. on guitar, and Lanny on drums, when Mr. Al Hirt and his clarinet player, "PeeWee" sat in with the band. The band was in awe of these fine musicians and they really enjoyed playing with the band. Later in 1973 is when Lanny decided to quit playing music. Then in 1997, he began playing again with a band called, "The Rockin Rollin' 50's," with Harry Anselmi, Carl Dufrene, Ebdon Barrios, Mike Cuneo, Lloyd Toups, Kenneth Cheramie, Phillip Cheramie, and Bozo Jarreau.
From 2000 til the present, Lanny plays keyboard, with "The Bayou Kings" along with Phillip Cheramie on vocals and guitar, Carl Soudelier on lead guitar, Emmett Boudreaux on bass, Bozo Jarreau on drums, Lloyd Toups on sax, and Kenneth Cheramie on trumpet. "The Bayou Kings" play at PJ's Tarpon Lounge, Arte's Big Daddy's, Old Scorpio, Gaines Fest, Bridgeside Rodeo, Catfish Fest, Swamp Pop Fest in Ms., many Mardi Gras parties and private functions.
Lanny has been married to the former Geraldine Mitchell for the last 43 years and have raised 2 daughters of their own, Natalie Jennings and Lana Rodrigue and an adopted son, Karl Hornbach. They have four grandchildren and still reside in Golden Meadow.