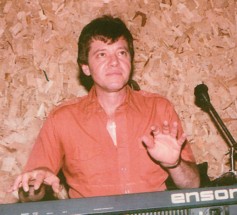 Barry Joseph "Junior" Rodrigue
3/27/1944 - 1/5/2001
Barry "Jr" Rodrigue was born and raised in New Orleans. Barry was self taught on the guitar and keyboards, including the Hammond organ.
As early as 13, he was a member of the band called "The Tokens" which later became "Ricky & The Tokens." Next came the band that many of us know and love, "The Milestones," who played many dances at Sacred Heart, Our Lady of the Sea, Woodman of the World, St. Anthony, and Germania Hall.
Barry also backed up the Aubrey Twins, Eddie Bo, Ernie K Doe, Benny Spellman, and Frankie Ford, with such bands as The Esquires, New Orleans Levee Board, Wild Honey, Rhythm Express, The Waybacks, Accent, Esplanade, Indian Fire, Short Circuit, Alley Cats, and Terry Lynn and Smooth Groove. A few bands extended Barry the opportunity to be featured on their recorded material such as, "There's Got to be a Girl" by "Mike & the Jokers," "Live on the Creole Queen," with Roland Stone, "Let's Talk About the Memories," with Duane Schurb, "A Woman Like Me," by Terry Lynn and Smooth Groove.
Barry's flair was requested all over New Orleans from Bourbon Street in the French Quarter to Fat City, the Westbank,and even on the Mississippi Gulf Coast. Some of the venues include, The Round Table, Mel's Villa, Joe's Villa, Copper's 11, The Junkyard, 1801, Suburban Club, The Fat Cat, Gretna C's, Visko's, Mac & Company, Boomer's Saloon, Michelli's, Salvatore's, Down's Lounge, Chesterfields, Callahans, Dillangers, The Landmark, Mo's Chalet, Rock N Bowl, The Playboy Club, The Ivanhoe, Treasure Chest Casino, and Casino Magic in Bay St. Louis, Mississippi. Barry was inducted into the Louisiana Music Hall of Fame in 2000 with "The Esquires" and again in 2001 with "The Milestones."
Barry was a unique musician who kick bass while playing his B3 organ. He would call out chords to the other guys in the band with his big wide smile and contorted facial expressions. Sometimes he was so in the groove, he came up out of his seat. He loved his music so much, that the first words he spoke, after his brain surgery, to his wife Bea were, "I still know what a 'C' note is and I know who you are and that's all I need to know." Barry was a Westbanker for more that half of his career and passed away at the age of 56, on January 5, 2001, after battling lung cancer for more than a year. He is irreplaceable in our hearts and "Simply the Best."